When Roland DGSHAPE USA launched the DWX-52D, replacing the DWX-51D in January of 2018, they did away with the C-Clamp and went with a new Snap-In Clamp System for disc changing which includes six material adapters. The idea was that the new style would offer a fast and secure set-up eliminating mounting errors and minimizing damage during disc insertion. The Snap-In Clamp System, reinserted material adapters keep discs indexed to their original position for production that requires secondary milling or two-stage processing.
Although the Snap-In Clamp system has its advantages, it also has its disadvantages. According to Dr. Brandon Stapleton, a Prosthodontist in Lexington, KY, the C-Clamp allows you to have 90-degree access with large full arch cases so that you do not have to touch the interproximal details on a beautiful design. With the Snap-In Clamp System, he and his team are currently having to hand carve every arch in the green state.
Roland DGSHAPE USA has listened to their customer base and they have officially launched the new C-Clamp for the DWX-52D. It retails for $430.95. This adapter will expand the function of your DWX-52D dry mill with a 90-degree milling range expansion vs the standard material adapter.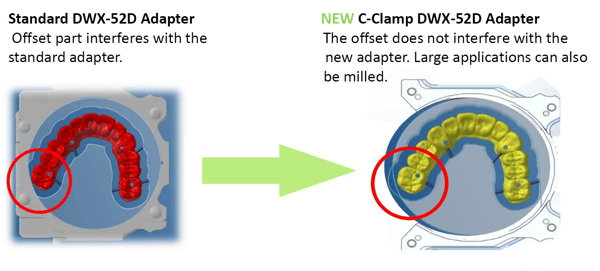 If you are a CIM System Millbox customer, you will need to make sure that you are running either Millbox 2020 or Millbox 2021.
Here are some tips for upgrading Millbox CAM Software:
Millbox updates are available for download at downloads.cimsystemusa.com.
Temporarily disable computer security settings, if necessary.
Run the updates as the administrator.
Compatible with Millbox version 2020 or later
User must have the latest version of Millbox software.
When in doubt… call your reseller.
To learn more about how to get your C-Clamp type adapter, fill out this form and your sales representative will contact you.