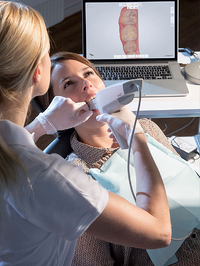 Becoming a digital dental lab does come with challenges, but once the transition is complete the possibilities it brings are endless. One of those benefits include the ability to become a TRIOS® Ready dental lab. A TRIOS® Ready lab is a dental lab that is certified as a lab that is fully prepared to receive and handle digital impressions sent from clinics using the 3Shape TRIOS®.
According to a recent LMT survey, the percentage of dental labs that have positioned themselves to be able to accept digital impressions have increased from 19% to 47% in the last five years. And, as the popularity of digital impressions continues to grow, now is the perfect time to position yourself to expand your offerings and become a TRIOS® Ready lab.
As a TRIOS® Ready dental lab, you have the following benefits:
A Listing on the TRIOS® Ready Lab Directory. A list with all the labs that are TRIOS® Ready is made public by 3Shape. In this directory, dentists will be able to identify that you are a TRIOS® Ready lab.
Recognition. Your dental lab will receive a TRIOS® Ready certificate and a brief generic advertisement, which you can send to your customers. In addition you will have the right to use TRIOS® Ready logo in your communication and various marketing material. This will help you promote your lab at the forefront of digital dental technology.
Enhance communications with your dentists. As a TRIOS® Ready lab, you will be able to truly benefit from the digital workflow including digital order forms, online case data exchange, immediate start of restoration design and have the ability to enhance case collaboration.
If you are interested in becoming a TRIOS® Ready lab, contact us or your reseller to begin the process.
Photo credit: 3Shape® A/S