As a child of the 70's and 80's, I grew up collecting baseball cards. And the best thing about baseball cards, other than making sweet trades with your buddies, were the stats on the back of the card. I used to spend hours reading the backs of the cards. There was so much great information on the backs of them.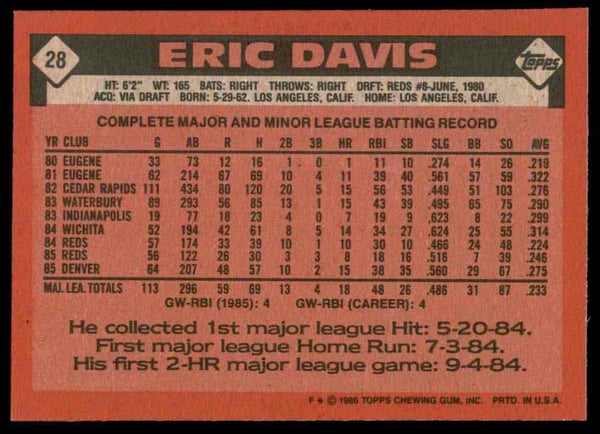 I don't know if it really was great, but I spent a lot of time arguing with other 12 year olds. Great or not, I always used those stats to back up my argument. To this day, I love stats and charts and reading information in that format.
At Whip Mix. we buy in-depth surveys that always contains very valuable information. I was going back over this report we purchased in November of 2019, and was surprised about the projected growth of 3D printing in the dental industry. We all know that 3D printing is changing our businesses by a lot, so let's go back to the year 1986, so that I, as a stat-loving 12 year old, can share some 3D printing statistics with you.
The following information is found in the GLOBAL DIGITAL 3D PRINTING IN HEALTHCARE MARKET RESEARCH REPORT, by Market Research Future. Before we get into their findings for the dental industry, it is helpful to know how they put this information together. Below is a graphic that takes you through their workflow.

Let's start by taking a look at dental growth compared to other medical applications.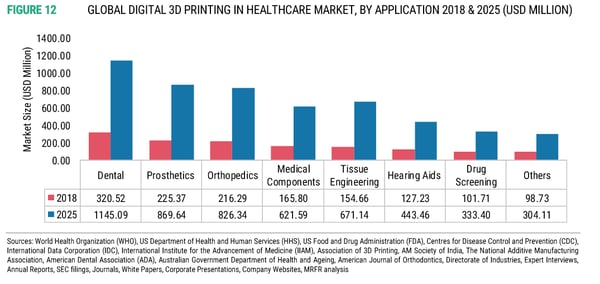 The dental segment is sub-segmented into dental implants, dentures, crowns & bridges, and clear aligners. The following table shows us the expected growth by each sub-segment.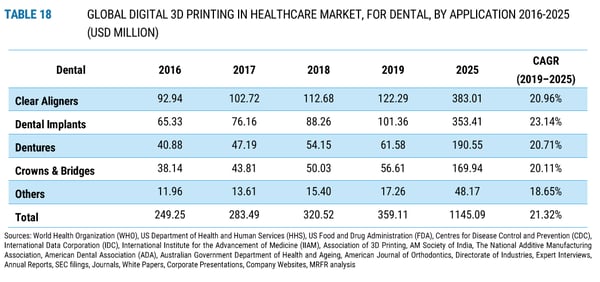 If you are interested to know how we stack up from a global perspective, the following table breaks it down into 4 regions.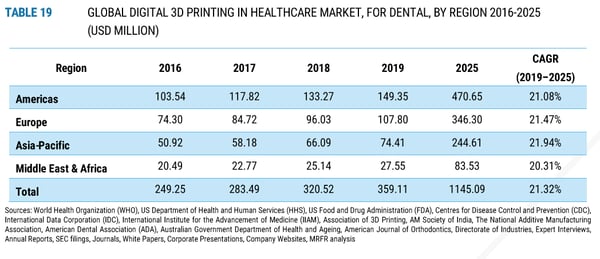 Digital dentures is quite a buzz phrase right now, but we are told that currently only 5% of dentures are being manufactured digitally. Again, we all know this area is going to grow, but a 20% annual growth rate between now and 2025 is amazing.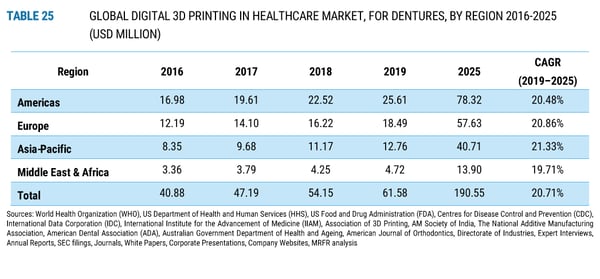 We see more implant planning and surgical guide design software suites and cloud offerings hitting the market on a regular basis. This chart show us why. This is almost a 23% growth rate in the U.S.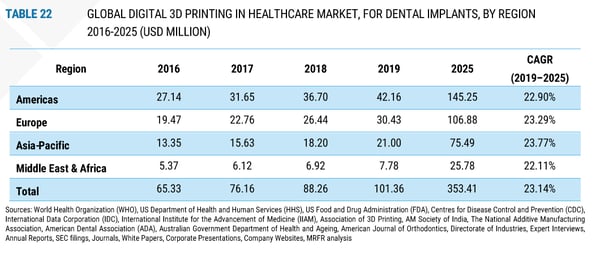 As we can see, there is significant projected growth in several areas of 3D printing in the next 5 years. Of course this report didn't even look at temporaries or the holy grail that is the final restoration. I will continue to comb over these stats the next couple of years to see what the future holds. Kind of the same way I did in 1986 to see what the future looked like for Eric Davis and the Cincinnati Reds.
Cheers!