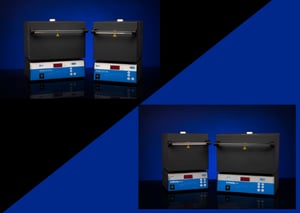 Lost wax casting technology is for the most part, a lost topic in Dental Technology these days. The advent of Zirconia restorations and new milled substructure materials have reduced the call for burnout to pressing and a very few castings. The need for this 'Analog' technology, all be it small, will continue for many years to come, so the position of the beloved burnout furnace is still solid.
The Infinity and PDQ burnout ovens have a solid and historical position in the industry. Yes, I know they are relatively new to the Whip Mix Corporation; however, the machines have been around for three generations of technicians.
The predecessors of the current units started life as the JELENKO burnout furnace. You remember the Black and Orange furnace. Some may actually still have working models of this classic. In those days, you were either a Jelenko or a Ney burnout fan.
In the late 1980's Jelenko decided to manufacture porcelain furnaces and equipment in Japan, which opened the door for the actual manufacturer of the Jelenko oven, JELRUS, a door onto the industry main stage. The burnout furnace looked the same and acted the same, but the colors changed to black and blue. The dependability of the furnace remained the same. Air Techniques, a manufacturer of high-end clinical air compressors acquired Jelrus, and the workhorse continued life.
In late 2010, Air Techniques decided to let the Jelrus line of Burnout and Porcelain furnaces go and offered them to Whip Mix. We elected not to take the Porcelain Furnace line and it died. We did take the Burnout ovens and incorporated them into our line of laboratory equipment and products.
With an adjustment to the electronics of the machine to come into compliance with Underwriters Laboratories requirements, we relaunched the current Whip Mix / Jelrus Infinity and PDQ Burnout Ovens. Dependable, long lasting and generationally tested, these machines are a great addition to any laboratory.
Some of you may be wondering about replacement parts for older burnout furnaces. We do have replacements for the electronics of the Jelrus Radiance, but not for earlier models. The heater plates, floor plates and thermocouples remain the same. They come with a one-year warranty on the heater plates and TC.
If you still are doing any kind of burnout procedure, you cannot go wrong with one of these generational workhorses.