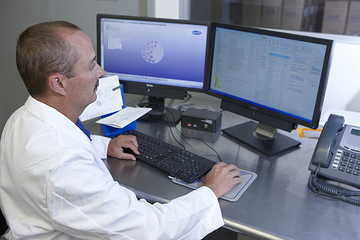 The dental industry is quickly transitioning and adopting new technology that enables better, faster and more accurate ways of taking impressions, creating models and fabricating restorations. Although many dental labs have already embraced some of these new digital technologies, there are still many that have yet to accept them. While reasons for not making the transition vary, the fact remains that digital technology is at the forefront of discussion between industry leaders, publications and various surveys. It simply can't be ignored.
To help you better understand the present state of the dental lab industry, we gathered some of the most recent data to depict the transition and changes labs have under taken. With this data you will gain a better understanding of how some labs are beginning to welcome these changes and what kind of opportunities these changes bring to the business of dental technology.


10 Compelling Stats that Help Make the Case for Your Dental Lab Going Digital
1) The number of laboratories from 1998 to 2011 has declined 12.5%
2) Since 2011, 7 new predoctoral dental programs have opened, bringing the number of active schools in the United States to 65
3) 55% of laboratories now have some form of digital equipment in-house
4) The number of crown & bridge and full-services laboratories offering CAD/CAM milled restoration has grown by 14% since 2007
5) CAD/CAM milled restorations make up, on average, 41% of the labs total crown & bridge case load
6) 37% of dental labs have both a scanner & milling system
7) The percentage of dental labs that have a scanner & outsource milling to another lab or manufacturer is 31%
8) 17% of labs have a rapid prototyping system for wax in their laboratories
9) 79% of labs say their clients are interested in CAD/CAM milled restorations
10) The percentage of labs that plan to purchase digital equipment in the next two years is 60%


What Does This Mean for My Lab?
If you haven't considered making the transition, you might want to start. Although by looking at the stats, it looks like a classic case of "keeping up with the Jones", it's not; this is truly where the industry is headed. The sooner your lab "jumps on the band wagon" the better position you will be in the future. With the number of labs slowly decreasing and number of dental programs increasing – the opportunity to grow your labs client base is infinite, if you go digital. Transitioning to a digital lab will allow you greater flexibility, the ability to keep up with demand, ability to offer new products & services, increased market size and will enable you to continue to deliver consistently high quality restorations.
These stats were taken from LMT Magazine's original research & The Changing Landscape in Dentistry Series.