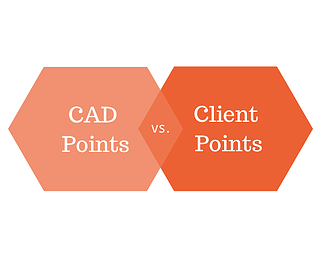 Whether a customer is new to 3Shape or not, we get a lot of questions surrounding 3Shape Client Points and CAD Points. Are they the same thing? What do Client Points do, what do CAD points do? Do they come with the purchase of a 3Shape? To help clear up some confusion here is what you need to know about Client Points & CAD Points.
3Shape Client Points are the number of licenses purchased for each module with Premium Software.
Dental Designer - 1-client point- only one person can design at a time.
Dental Manager - 5-client points - 5 people can simultaneously scan, enter orders, view orders or view case status.
Dental Box Manager inBox - 10-client points - 10 customers can simultaneously send cases to you
All other modules come with 1-client point/license, which means only one person can use the module at a time.
3Shape CAD points
, allow users a pay-per-design option when ramping up the production of more complex restorations like abutments & implant bars and bridges. CAD points do not come with the initial purchase of the scanner and can be purchased in sets of 100, 200 and 500 points. Usage points per design are as follows:
| | |
| --- | --- |
| CAD Point Indication | Point Usage Per Design |
| Customized Abutment | 9-CAD Points |
| Implant Bar & Bridge | 9-CAD Points per Implant |
| Removable Partial Dentures | 15-CAD Points |
| Full Dentures | 15-CAD Points |
| Model Builder Trios | 6-CAD Points |
| Model Builder 3rd Party | 12-CAD Points |
_____________________________________________________________________________
About the Author
Margaret Overmeer has been with Whip Mix for over 23 years and is the Director of Customer Relations & Technical Support. She can be reached at movermeer@whipmix.com.